The Pentacle is simply a pentagram with a circle around it. This symbolizes eternity, totality, and unity. It emphasizes the interconnectivity of all of the elements. The direct and indirect relation of one element to the other.

The Pentacle has been a symbol of protection and spiritual growth for centuries/millenia. At the points are the stages of Life: birth,initiation,consummation,repose, and death, with the circle bring us back to birth through the cycle of reincarnation.
The Pentacle is often worn as jewelry for protection,wisdom and empowerment. It is also used on the altar during rituals or for spell work, as a way to connect us with the 5 elements.
CLOSER LOOK AT THE PENTACLE ITSELF
Each of the points on the Pentacle represent 1 of the 5 elements of nature.
PENTACLE WITH ELEMENT SYMBOLS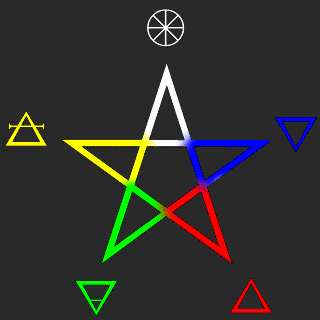 WHAT EACH ELEMENT/ POINT STANDS FOR
EARTH: (lower left hand corner) represents stability and physical endurance.
FIRE: (lower right hand corner) represents courage and daring.
WATER: (upper right hand corner) represents emotions and intuition.
AIR: (upper left hand corner) represents intelligence and the arts.
SPIRIT: (at the topmost point) represents the All and the Divine.
THE CIRCLE around the star symbolizes unity and wholeness. It represents the quest for Divine Knowledge
A GOOD SONG ABOUT THE PENTACLE AT ....